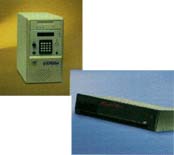 Around the world, security decision makers are experiencing escalating concerns about asset management, employee theft and property crime.
As well, senior managers in various industries are under increasing pressure to guard against potentially devastating liability claims. As a result, demand interactive video and audio surveillance products and audio logging products growing exponentially.
Consider these facts:
the audio logging market in the US alone is estimated to be $1 65M and growing at approximately 10% per year;

the total industry revenue for security dealers, installers, and monitoring firms is projected to be $1 3.24B for 1997...and growing.
Enter AlT's Rapid Eye and Comfile products, marketed exclusively through the Solution Partner Program. Rapid Eye is a state-of-the-art video telesurveillance system that enables clients to interactively secure and manage remote business operations from any location, 24 hours a day. Comfile is a digital audio recorder, or logger, that is used by small to medium sized businesses that need to record telephone conversations in order to reduce business risk.
Both product lines are well positioned and competitively priced in their target markets. Both offer the best combination of value and technology in interactive security products available today.
For our Solution Partners, Rapid Eye and Comfile offer an exceptional opportunity to take advantage of fast growth markets with established, performance products. Now imagine how well you can do with these products when backed by AlT's uncompromising, industry leading total Solution Partner Program.