Voice Recording, Radar Recording , Telephone Call Recording and CCTV Systems by AIT Recorders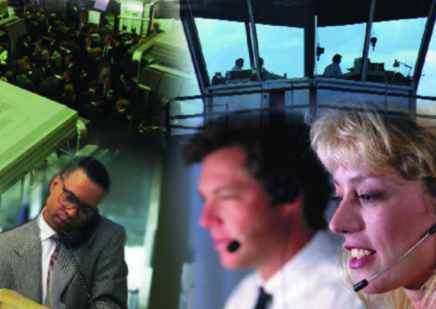 Established since 1979, AIT recording technology contimous to serve the UK and overseas market gaining a reputation for the design of effective data recording systems. These include phone call recording systems and CCTV digital recording systems. Seen below this text are examples of the products supplied and designed by AIT Recording.
Voice and Data Recording Systems
A comprehensive range of cost effective, easy to use, high integrity phone call recording systems. Models recording 1 to 256 channels, using DVD-RAM, DAT or Jaz recording media. Systems for ISDN and analogue lines. Options for recording radio, mobile, and processed radar data.
Raw Radar Recording Systems
Witness is a powerful and cost effective data recording system that provides a permanent and complete record of radar pictures on a compact video cassette, showing target movements and incidents as witnessed by the radar itself.
Rapid Eye CCTV Control Surveillance
Rapid Eye™ is the acclaimed Video CCTV digital recording and transmission system that simplifies your remote monitoring needs by providing you with a straightforward, easy to use system that will manage images from a virtually unlimited number of remote locations.
Global Customer Support
Global Customer Support is paramount to AIT's commitment to individual customer satisfaction. The Company has grown in size and scope not only on the strength of excellent products, but also on the assurance of maximum support from a team dedicated to customer satisfaction.
Solution Partner Program
AIT is dedicated to working with a select number of Solution Partners to bring its acclaimed family of Rapid Eye and Comfile products to end-users. By working with and exhaustively supporting our Solution Partners, AIT is able to help our partners quickly capitalize on opportunities - wherever they occur.
Formerly known as Walton Radar Systems, our company has applied an innovative methodology, which has resulted in international expansion and a shift towards developing and Manufacturing Voice digital recording, data recording, phone call recording and Video Surveilance systems. This has also resulted in AIT having expanded with separate offices in the UK, Vancouver and Asia.
If you would like further information, feel free to browse on our site at your leisure. For manufacturing enquiries, contact our Surrey office in Hampton Wick, or our Middlesex office in Twickenham for sales enquiries. Both addresses appear within the 'Contacts' section of our website.
---